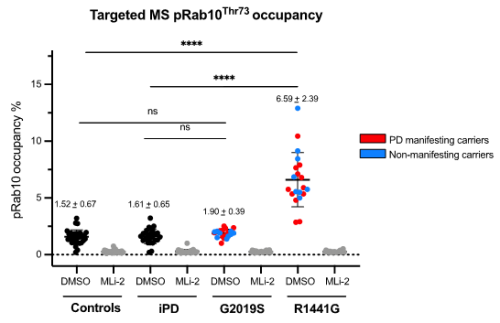 Published today in Acta Neuropathologica! New paper from the Sammler lab: 1-4% of the estimated 10 million cases of Parkinson's disease (PD) are caused by genetic changes in the LRRK2 kinase. Unravelling the signalling and regulatory network of LRRK2 is a major focus of research in the MRC PPU. Esther has brought together a team of leading PD researchers and clinicians to deploy her previously developed biomarker assay in peripheral blood in people affected by PD with and without genetic changes in LRRK2. The main finding is that a particular genetic change in LRRK2, the LRRK2 R1441G mutation, results in significant activation of the LRRK2 kinase. 
Esther explains 'this is a very important step towards better understanding Parkinson's disease – especially as new treatments targeting the LRRK2 kinase are currently being tested in clinical trials. I am extremely happy that this work has now been published in a high-impact journal and that we can share it with the scientific community.' It was a major logistical challenge to collect and process fresh blood from over 100 participants. Dr. Alicia Garrido from Dr. Tolosa's team in Barcelona was instrumental as she recruited the majority of participants to donate blood while Dr. Ying Fan, who is the first author, and Esther visited. The remaining participants were recruited via Dr. Juan Martinez's team in San Sebastian with the help from Dr. Shalini Padmanabhan from The Michael J Fox Foundation for Parkinson's research. Dr. Fan performed the quantitative immunoblot analysis for LRRK2 dependent Rab10 phosphorylation at Threonine 73 while Dr. Raja Nirujogi conducted targeted mass-spectrometry analysis for Rab10 occupancy thus ensuring that results were derived from two different approaches. In the future, the laboratory will continue working on refining and expanding their biomarker studies and will also look at other hereditary PD cohorts.  
Read and share here.