Immune interactions at the intestinal epithelium
The intestinal epithelium consists single layer of epithelial cells that serves dual functions of nutrient absorption and protection from the external environment including infectious microbes and other stressors. Within the epithelial layer exists a group of unconventional innate-like T cells known as intraepithelial lymphocytes (IEL), that assimilate information from these luminal nutrients and microbes, and communicate with the epithelium and other immune cells to help maintain a balance between tolerance and resistance. Our main research interest is to understand how intestinal IEL coordinate immune responses to chemical, dietary and microbial inputs at the intestinal epithelium. In autoimmune inflammatory bowel diseases (IBD) such as Crohn's disease and Coeliac disease, there is a breakdown of tolerance, and dysregulation of IEL function. Thus we are exploring how immune homeostasis is maintained at the barrier, and how dysregulated IEL can be controlled.
Some of the ongoing questions we are addressing in the lab are (Figure 1):
What are the contributions of IEL to maintaining gut homeostasis, and to protecting the gut from infection?

What are the signalling pathways that drive IEL function?

How do dietary nutrients affect IEL function and how do IEL influence dietary responses?

How are IEL metabolically adapted to the gut environment?

Our approach to dissecting the functional roles of immune cells in intestinal homeostasis and disease, is to use a combination of proteomics, mouse models, intestinal infections, phospho-proteomic and multiplexed single-cell phosphoprotein analyses, and epithelial organoid:IEL co-cultures in vitro. Since setting up my research lab, we have generated key tools to study IEL biology and in-depth proteomic analyses that have allowed us to build hypotheses on the roles and regulation of IEL (Brenes, Vandereyken et al, 2021). Our discovery of the PIM kinases as important regulators of IEL function (James et al, 2021) has opened a new area of research in my lab into the role of PIM kinases in Coeliac disease. We have identified unconventional roles for the cytotoxic proteases Granzyme A and Granzyme B in the protective functions of IEL (Vandereyken et al, Biorxiv, 2021). The principles governing IEL activation and killing contribute greatly to our understanding of inflammatory bowel diseases (IBD), and potentially inform cancer immunology studies, where IEL play important roles.
In a second major project, my lab seeks to address the role of the Leucine-rich repeat kinase (LRRK2) in intestinal immune function and in IBD. LRRK2 is a large kinase, and polymorphisms in this kinase are associated with both Parkinson's disease and IBD, specifically Crohn's disease. In collaboration with the Alessi lab, we have begun to investigate the expression and activation of LRRK2 in the gut before and after intestinal inflammation, and the effect of LRRK2 kinase inhibitors on intestinal inflammation. We are also investigating the physiological functions of LRRK2, using loss- and gain-of-function models (Figure 2). The pathways and processes we identify as regulated by LRRK2 in the gut could be further developed as potential new biomarkers of LRRK2 involvement in IBD.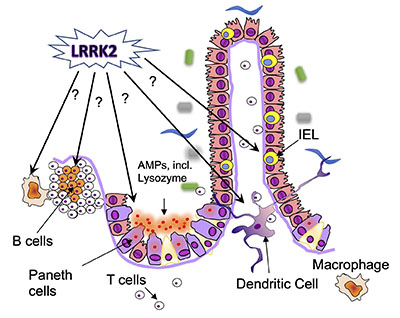 Our lab are active members of the Tayside Immunology group (regional group of the British Society of Immunology) and the Society for Mucosal Immunology.