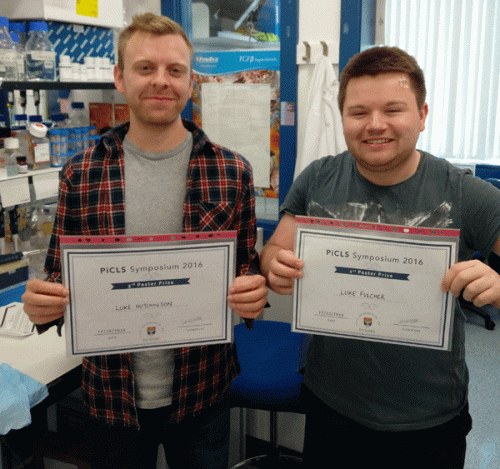 Luke and Luke
Two Sapkota lab PhD students, Luke Fulcher and Luke Hutchinson, won prizes for best posters at the sixth annual PiCLS symposium held at the West Park Conference Centre on 17th October, 2016.
Luke Fulcher presented his recent work on the use of Affinity-directed PROtein Missile (AdPROM) system to degrade endogenous target proteins. This methodology has enormous potential for functional modulation of any expressed proteins in cells.
Luke Hutchinson presented his work on novel regulators of the TGF-beta pathway. He has employed endogenous transcriptional reporter systems for TGF-beta and BMP signalling to uncover novel regulators, some of which have shown tremendous promise for therapeutic intervention in pathologies associated with abnormal TGF-beta signalling.
Two previous winners from the Sapkota lab include Polyxeni Bozatzi (2015) and Lina Herhaus (2013).
The PhD in College of Life Science (PiCLS) annual symposium is organised by the PiCLS committee composed of PhD students within the School of Life Sciences in Dundee, who invite eminent scientists to speak from around the world. Some of the speakers this year included Prof. Wendy Bickmore (Edinburgh) and Prof. Markus Aebi (Zurich), among others. Almost all the PhD students from the School of Life Sciences attend the symposium and majority of the present posters