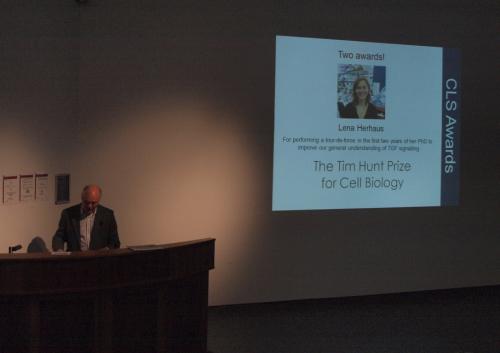 2013 Tim Hunt prize for Cell Biology awarded to Lina Herhaus
Congratulations to Lina Herhaus, PhD student in Gopal Sapkota's lab, on being a recipient of the 2013 Tim Hunt Prize for Cell Biology for her work on elucidating the role of OTUB1 in the TGF-beta pathway.
The Tim Hunt prize for Cell Biology is awarded for a significant advance in basic research in any area of cell biology carried out in the College of Life Sciences at the University of Dundee. The award committee awarded the prize to Lina 'for a tour de force performance in the first two years of her PhD research to improve our general understanding of TGF-beta signalling'. Lina's research was published in
Nature Communications
.
Upon receiving the award, Lina said, 'I am so happy to have been a winner of the Tim Hunt prize this year, as it gives me even more confidence in my research. It is brilliant to see that my findings have been recognised as important contributions to the field of cell biology. It really is a great honour for me and I am very thankful to my supervisor Gopal Sapkota for his guidance and to all members of the MRC PPU for their support.'
MRC-PPU Director Dario Alessi commented, 'I am delighted that Lina has received this extremely prestigious accolade. Lina is a remarkably talented and creative young researcher who is undertaking important fundamental research in Gopal Sapkota's lab on how the TGFbeta signalling pathway is regulated and functions. Lina's work provides intriguing new insights into how this pathway impacts on cancer. I am confident that Lina's research will make a major mark in this vital field of research'.
Lina is the third MRC-PPU researcher to receive the Tim Hunt prize in the last four years. Other winners were Shuai Chen (2011, supervised by
Carol MacKintosh
) and Anna Zagorska (2010, supervised by Dario Alessi).