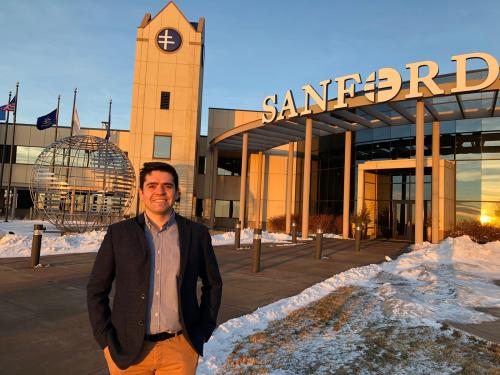 Francisco Bustos
MRC-PPU Postdoctoral Researcher Francisco Bustos has been appointed Assistant Professor at Sanford Research, South Dakota USA
Francisco has been a postdoctoral research assistant in Greg Findlay's laboratory since 2016, where he has focused on understanding how phosphorylation and ubiquitylation signalling controls stem cell biology in health and disease. Francisco's research has unravelled molecular functions and regulation of a RING E3 ubiquitin ligase RNF12/RLIM, which is mutated in an intellectual disability disorder recently named Tonne-Kalscheuer syndrome (TOKAS). Francisco's early work in the MRC-PPU showed that RNF12/RLIM variants from TOKAS patients disrupt catalytic activity to impact on neural differentiation, providing the first insights into potential pathogenic mechanisms underpinning the development of this syndrome (Cell Reports, 2018). This set the scene for Francisco to systematically investigate RNF12/RLIM signalling, to better understand how this network goes awry in TOKAS. Using an elegant series of kinase screening approaches, Francisco discovered that SRSF-rich protein kinases (SRPK), which were previously known to phosphorylate Arg-Ser rich (SR) motifs in splicing factors, phosphorylate a similar motif in RNF12/RLIM to control catalytic activity and substrate targeting. Furthermore, using RNA-sequencing and bioinformatic analysis, Francisco showed that the SRPK-RNF12 pathway regulates expression of key neurodevelopmental genes, a function that is disrupted in TOKAS and related intellectual disability disorders. This work was published in Developmental Cell in 2020, for which Francisco was awarded the Dundee Prize for Molecular and Cellular Biology. More recently, Francisco has characterised novel variants in the SRPK-RNF12 pathway that have been identified in patients with TOKAS and other intellectual disability disorders (Scientific Reports, 2021).
Later this year, Francisco will start his own research group, taking up a position as Assistant Professor at Sanford Research in Sioux Falls, South Dakota. Sanford Research is a National Institutes of Health funded biomedical institute affiliated to the University of South Dakota and the Sanford Health hospital network. Sanford Research specialises in understanding the molecular basis of paediatric and rare diseases, diabetes and cancer. Francisco's laboratory will work on elucidating the role of the ubiquitylation system in neurodevelopmental disorders. These disorders have devastating effects on patients and constitute a serious unsolved biomedical problem, since the molecular mechanisms involved are poorly understood and are key to the development of effective therapies.
Francisco said; "I am extremely excited start my first independent laboratory. This was only possible thanks to my wonderful experience in the MRC-PPU and the School of Life Sciences here in Dundee, the fantastic supervision from Greg and the high-level research environment, collaborations and discussions that I sustained with MRC-PPU colleagues and PIs over the last five years. I will now apply the mindset and expertise in biochemistry and signalling that I developed here in the MRC-PPU to tackle important biomedical problems".
The Bustos Lab soon will be looking to recruit postdocs and research associates. For more information visit https://research.sanfordhealth.org/researchers-and-labs