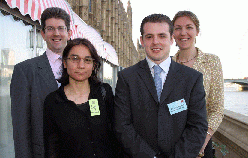 Luke Hesson at the House of Lords
Luke Hesson, who recently joined Philip Cohen's Group as a postdoc, visited the House of Lords on 8 June 2005 as a member of the research team at the University of Birmingham, who received the "Team of the Year 2004" award from the Breast Cancer Campaign.

This award is granted to the research team who have been most successful in publishing and presenting the results of their research, and for their continued commitment into researching the cure for breast cancer. One of the main interests of the team, led by Professor Farida Latif , is the study of the RASSF family of tumour suppressor genes, which are proapoptotic K-ras effectors. As part of this team Luke Hesson helped to identify interacting partners of the tumour suppressor gene RASSF1A. He then went on to identify, clone and characterise other members of the RASSF gene family and found that several, like RASSF1A, were inactivated by promoter DNA hypermethylation in several forms of cancer, including breast cancer. In an effort to understand the roles of these other RASSF members in tumourigenesis he then went on to investigate their function using the yeast two-hybrid system. His research provides possible diagnostic markers for early detection of a range of cancers as well as identifying therapeutic targets for the inhibition of cancer cell growth.