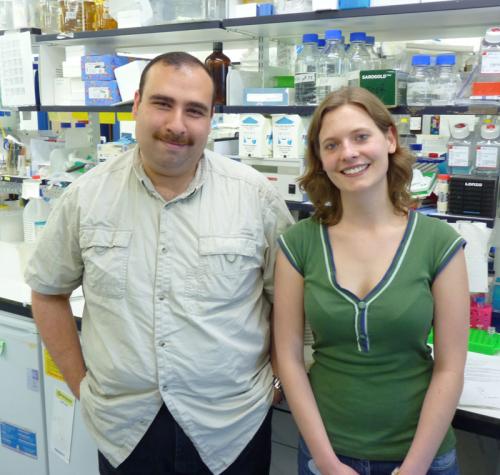 Mazin Al-Salihi publishes the role of USP11, a deubiquitylating enzyme, in the regulation of the TGFÃ_Â_ pathway
The transforming growth factor-Ã_Â_ (TGFÃ_Â_) signalling pathway plays critical roles through embryogenesis and in adult tissue homeostasis. Consequently, abnormal TGFÃ_Â_ signalling is associated with numerous human diseases, including immune disorders, fibrosis, cancer progression and metastasis. Reversible ubiquitylation of the TGFÃ_Â_ pathway components play crucial roles in determining balanced cellular responses to TGFÃ_Â_ signals. Much is known about the regulation of the key pathway components by ubiquitylation. However, very little is known about the role of deubiquitylating enzymes (DUBs) in the regulation of the TGFÃ_Â_ pathway.
Mazin Al-Salihi, who is a MRC Career Development Fellow in Gopal Sapkota's laboratory in the MRC Protein Phosphorylation Unit, has focussed on identifying and characterising novel deubiquitylating enzyme regulators of the TGFÃ_Â_ pathway. A proteomic screen undertaken in Gopal's laboratory identified USP11 as an interactor of SMAD7, a negative regulator of the TGFÃ_Â_ pathway that recruits E3 ubiquitin ligases to the type I TGFÃ_Â_ receptors. Mazin demonstrated that USP11 enhances TGFÃ_Â_ pathway signalling by binding, deubiquitylating, and stabilising the type I TGFÃ_Â_ receptor, ALK5. He showed that USP11 augments the TGFÃ_Â_-induced phosphorylation of SMAD2/3 as well as transcriptional responses. Furthermore, he found that only wild type USP11, but not a DUB dead mutant that still binds ALK5, is capable of eliciting such responses. Mazin's findings thus imply a central role for the reversible ubiquitylation balance mediated by the SMAD7-E3 and SMAD7-USP11 complexes on ALK5 stability and consequently TGFÃ_Â_ pathway signalling.
Epithelial to mesenchymal transition (EMT) is a process whereby epithelial cells undergo profound changes in shape and behaviour to become mesenchymal cells. EMT is a fundamental process during embryogenesis and organogenesis conferring enhanced cellular plasticity. While the precise roles of EMT in cancer progression are still unclear, EMT may confer malignant traits such as motility, stemness, invasiveness, and survival in cancer cells. TGFÃ_Â_ is a potent inducer of EMT. By reducing USP11 expression, thus inhibiting TGFÃ_Â_ signalling, TGFÃ_Â_-induced EMT is inhibited in a cellular model. These findings open an exciting new avenue for drug discovery by targeting USP11 for the inhibition of the TGFÃ_Â_ pathway in cancer.
Lina Herhaus, a PhD student in Gopal's laboratory, also contributed to this research.
Al-Salihi, M. A., Herhaus, L., Macartney, T. and Sapkota, G. P. (2012) USP11
augments TGFÃ_Â_ signalling by deubiquitylating ALK5.
Open Biology 2: 120063
A review describing the regulation of the TGFÃ_Â_ pathway by reversible ubiquitylation was also published recently.
Al-Salihi, M. A., Herhaus, L. and Sapkota, G. P. (2012) Regulation of the TGFß Pathway by Reversible Ubiquitylation.
Open Biology 2: 120082.