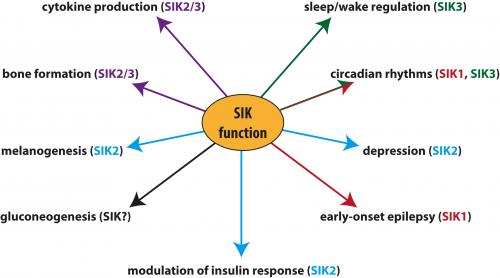 A summary of the contributions of SIK isoforms to the regulation of physiological processes
Published today: review article from Nicola Darling and Philip Cohen providing an overview of current knowledge about a family of kinases called Salt-Inducible Kinases (SIKs), with a focus on their physiological roles and how they are regulated. The SIKs regulate transcription factors that control many important functions and there is increasing evidence that inhibitors of these protein kinases have therapeutic potential for the treatment of a variety of diseases, including inflammatory diseases such as rheumatoid arthritis, asthma and inflammatory bowel disease, osteoarthritis, osteoporosis, to treat jet lag or to promote skin tanning.
Read the Biochemical Journal paper here.