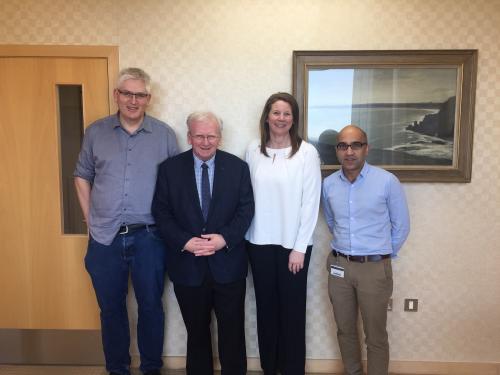 L-R: Dario Alessi, Ian Shanks, Emma Shanks, Miratul Muqit
Professor Ian Shanks FRS and his daughter Dr Emma Shanks visited the MRC Protein Phosphorylation and Ubiquitylation Unit (MRC PPU) on January 23rd to hear about the research being undertaken. Ian Shanks is a pioneer of liquid crystal display (LCD) and adapted this to develop the first digital blood glucose sensor in the 1980s, which has transformed the management of diabetes and benefited millions of patients worldwide.
During their visit, they met with Dario Alessi and Miratul Muqit to hear about the latest research developments into better understanding Parkinson's disease, and Philip Cohen who undertook seminal work in diabetes research to elucidate the function of insulin and delineate its signalling pathway. Finally they met with Mike Ferguson to hear how about the work of the Drug Discovery Unit and the university's links to industry.