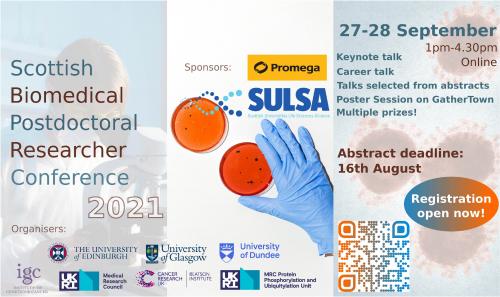 SBPRC2021
Postdoctoral researchers from MRC PPU (University of Dundee) are pleased to be involved in organizing the 6th Scottish Biomedical Postdoctoral Researcher Conference, along with postdoctoral societies at the Institute of Genetics and Cancer (University of Edinburgh) and CRUK Beatson Institute (University of Glasgow).
We invite researchers from the Scottish institutes and universities to join us for this virtual conference on Monday 27th and Tuesday 28th of September 2021, 1.00 – 4.30pm.
This two-afternoon event aims to provide biomedical postdocs with the opportunity to showcase their research. It will bring together early-career researchers from institutes across the whole of Scotland, with PhD students and researchers of all experience levels welcome to attend and participate in networking opportunities. Our programme includes a generous number of short talk slots for postdoctoral researchers, and a virtual poster and networking session on the exciting and intuitive videogame-style platform "Gathertown".
Alongside postdoc talks we also have two invited speakers: Prof. Lea Goentoro from Caltech who has been exploring conserved mechanisms to induce limb regeneration, and Dr. Lara Campana the co-founder of Resolution Therapeutics which aims to use cell therapies to treat inflammatory organ disease.
Register and submit your abstracts here (https://www.eventbrite.co.uk/e/scottish-biomedical-postdoctoral-researcher-conference-2021-tickets-162650216175) before the deadline of 16th August.
For any queries regarding registration or the programme, feel free to contact us at sbprc.conference@gmail.com