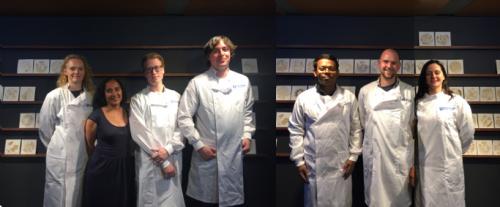 L-R: Rachel Toth, Daksha Patel (artist), Daniel Saarela, Michael Stevens, Pawan Singh, Daniel Squair & Odetta Antico
MRC PPU scientists contributed to an interactive art exhibition entitled 'Misprints' by artist Daksha Patel held at the Dundee Contemporary Arts (DCA) on October 8th 2019 during Dundee Science Festival. The exhibition was inspired by research being conducted on Parkinson's disease within the Unit.
Funded by an ISSF Public Engagement Award from the School of Life Sciences, the first part of the project began in Autumn 2018, with an artist residency in which Daksha was embedded in the laboratory of MRC Programme Leader and Wellcome Trust Senior Fellow, Miratul Muqit. Daksha interacted with young researchers investigating the function of the PINK1 kinase that is mutated in early-onset Parkinson's patients. During this time, Daksha observed a wide array of experimental techniques including protein expression and crystallography; biochemical analysis by western blotting; and imaging studies of neurons and mitochondrial processes visualized by confocal and electron microscopy.
Daksha then returned to her studio in Manchester where over the ensuing months she generated hundreds of drawings based on the scientific imagery she observed in the lab. Daksha then returned to Dundee in Spring 2019 where she was based in the Dundee Print Studio of the DCA to transform her drawings into a series of prints using laser cutter to bring a 3D feel to the prints. An accident in the printer led to one of her prints becoming distorted from the original form and Daksha found this had more visual impact and meaning given the genetic and protein alterations that occur in Parkinson's. Based on this serendipity, Daksha then introduced subtle alterations in all the original images to create her series of 'Misprints'.
During this time Daksha also carried out a series of Art workshops for a group of people with Parkinson's held in the Frank Gehry designed Maggie's Centre in Dundee. The group comprised 4-5 people who underwent 4 sessions learning about drawing and painting and they were also joined by Miratul for two of the sessions creating a novel dynamic in which neurologist and patient shared in an activity of no direct relevance to their illness.
In the final exhibition, Daksha enlisted the help of Pawan Singh, Odetta Antico, Michael Stevens, Daniel Saarela from the Muqit lab; Daniel Squair from Satpal Virdee's lab; as well as senior scientist Rachel Toth; to bring the story of her prints to the wider public. The exhibition comprised visitors first getting to choose and hold one of the prints and have a conversation with one of the MRC scientists; then moving on to have a conversation with Daksha; before placing them on an evolving white wall. Tickets for both the afternoon and evening sessions were close to sold out and the event was attended by members of the public from a wide variety of backgrounds. In light of the feedback, future exhibitions of Daksha's work is planned.
During the various phases of the project, Daksha was ably supported by Amy Cameron and Ailsa Mackintosh from the SLS Public Engagement Office and Alison Hart of the MRC PPU.