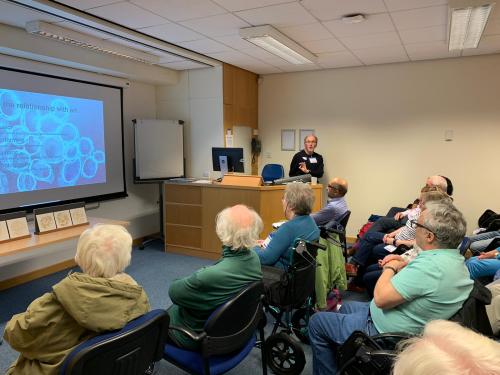 Members of the MRC PPU recently took part in an exciting event on Parkinson's and Art organized by Werner Remmele, Secretary of the Dundee Research Interest Group (DRIG), a partnership formed with the University of Dundee and Parkinson's patients interested in research. The event entitled "Disrupting the downward spiral: How art may help living with Parkinson's" was held at the School of Life Sciences on October 10th and attracted nearly 20 visitors from all across Scotland including Glasgow, Edinburgh as well as across Tayside.
The first session was chaired by Esther Sammler and featured talks on emerging studies suggesting that Art can benefit Parkinson's by Miratul Muqit and the much more established role for Dance in Parkinson's given by Dr Bethany Whiteside from the Royal Conservatoire of Scotland. Dr Whiteside shared her recent sociology based research on the Scottish Ballet sponsored dance initiative that is being rolled out across Scotland for Parkinson's patients.
In the second session, the audience heard from the Manchester based artist Daksha Patel who has recently completed an artist residency project with Miratul Muqit culminating in her exhibition, Misprints, that exhibited at the Dundee Contemporary Arts (DCA). Daksha also held a series of four art workshops entitled 'Rhythmic Mark's' for Parkinson's patients at the Frank Gehry designed Maggies Centre in Dundee. Her talk was followed by a presentation from Werner who had been a participant in Daksha's workshop and he shared his overall positive experience in taking part.
In the final session, John Minhick hosted a Question & Answer session on the audience's experiences of creative arts and how this shapes their Parkinson's experiences. Finally Marc van Grieken, DRIG President, gave the vote of thanks and also spoke about future exciting events that the DRIG are organizing for the coming session.