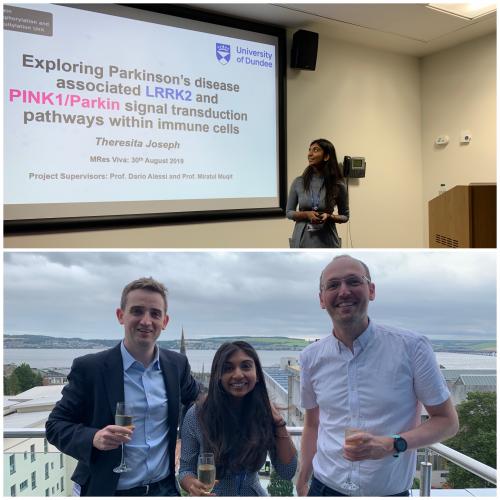 Theresita with her examiners, David Breen (Edinburgh) and Andrew Howden (Dundee)
Theresita Joseph, who was jointly supervised by Miratul Muqit and Dario Alessi, has successfully defended her Masters by Research Degree (MSc) studying Parkinson's signalling pathways in human and mouse immune cells.
The MSc by Research Life Sciences is a new programme established at the University of Dundee in which students spend the entire year undertaking research with no taught lectures.
Theresita is a clinical medical student at UCL in London and had already taken a year out of her medical studies to complete an intercalated BSc graduating with First Class Honours. However, after attending a conference in Edinburgh and hearing about the Parkinson's research being conducted at the MRC-PPU, Theresita took the unprecedented step of taking a second year out to undertake cell signalling research linked to Parkinson's mechanisms in the MRC-PPU.
Theresita said "Parkinson's disease (PD) is a condition close to my heart as it affects my uncle, and was a key contributor in my decision to pursue medicine and find out more about PD research. It has been a real privilege to undertake a Masters at the MRC PPU; to not only witness the ground-breaking research taking place, but to also learn and carry out some of the key laboratory techniques and thus be a part of it. I have loved my time here and whilst I am sad the year is over, I am very excited to return back one day."
Miratul who leads clinical activities in the MRC PPU said "Theresita has been a fantastic and rewarding student to host in our labs. She has uncovered interesting links between the LRRK2 kinase and the immune system which may have relevance to the development of Parkinson's. Training the next generation of medics in mechanistic research is one of the core missions of the Unit and Theresita joins a growing list of medics at all stages from undergraduate to postdoctoral who have spent time in the MRC unit learning techniques to explore the molecular mechanisms of disease."
Professor Kim Dale, Academic Lead for the MSc Programme said: "As programme lead for the Masters by Research programme I am delighted to be able to congratulate our first graduate Theresita Joseph on passing her viva. The School of Life Sciences is a world class environment in which to conduct cutting edge research. We welcome applications from bright enthusiastic young scientists to embark on their  scientific careers in a welcoming collegiate and supportive scientific environment in the School of Life Sciences that is ranked number 1 in the UK for biological research REF 2014."
Theresita has now returned to her clinical studies at the UCL medical school.