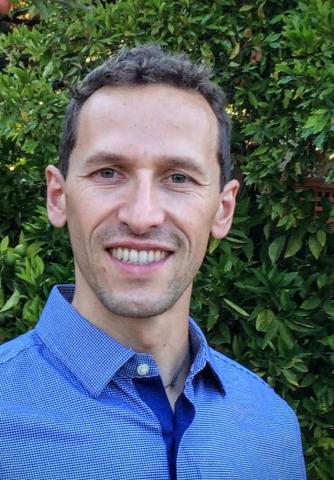 Changing the future of disease
"At my interview with Verily, formerly Google[X], the only thing that I knew was that I didn't know anything about what Verily wanted to do. It was quite surprising how little they would tell me about what they were doing, but I thought, this opportunity won't come again. So I decided I was ready to join Verily," says Dr Alberto Vitari.
Dr Vitari is the Cell Biology group leader at Verily Life Sciences. The company's aim is to gather, integrate, and analyze diverse and deep data about health in order to improve the detection, management, and prevention of disease.
Early detection
Figuring out what a healthy human looks like at a molecular level is as significant to Vitari's work as learning how to spot cancerous changes before they form a tumour.
"People tend to discover they have a disease when they have symptoms. In biological terms this is quite late. It would be ideal to be able to prevent disease in general by catching it earlier. If we can figure out a way to do that, the outcome for patients has to be better."
Dr Vitari says it is going to take time to get there: "We need to develop new technologies. Today we are at the stage where most of the time we catch disease when it manifests itself in a symptomatic way. But we still have a big challenge at this point - how do we identify the best therapy? Therapy doesn't only mean taking a specific drug. It could even be just about changing your lifestyle and how this could improve your health or disease outcome. If we have better biological information about a person's health then we can probably manage many diseases better. Being able to match an individual to the most appropriate therapy is likely to improve health outcomes overall."
At Verily, Dr Vitari's focus is developing molecular methods to provide a more detailed picture of health and disease. He believes potential solutions are written in better biological information: "For example, the current standard way to collect information in cancer patients is a tumour biopsy of cancer tissue. It's invasive, isn't always feasible, comes with all sorts of risks for the patient and can be a bit hit or miss in some cases because, unless you sample the appropriate tumour site, it only gives you a partial snapshot of what the tumour is like. We want to collect deeper biological data in a non-invasive way."
Continuous molecular monitoring
Dr Vitari is also interested in ways to take a continuous look at cancer: "A tumour biopsy gives a picture of a moment in time. We want to be able to monitor the emergence of disease and how it evolves in response to therapy. We know tumours change under the selective pressure of drugs and so we want to be able to anticipate whether the tumour is developing resistance. If this works, it's possible physicians could change the therapy right away to minimise recurrence."
"Of course, the earlier we push tumour detection, the earlier we could push novel therapeutic interventions and we'll need to prove their efficacy. But that's a long term goal, it will take time to get there but the challenge is exciting," he says.
Deciphering data
First, there is a vast volume of data to analyze. This is where Verily and Alphabet's traditional strengths come into play.
"Google has well known capabilities to collect information worldwide and analyse it and I think this approach could be translated to healthcare. The crucial thing is how do we collect the right health information? And then understand it? I think Verily is the best place in the world to achieve this. We have a strong team of experimental scientists who are developing new methods to provide insight into the human body. My team is working on molecular methods but others are looking at wearable devices, it is very exciting," he says.
Dr Vitari describes a work environment that allows for connections with people from different fields: "I consider myself a cell biologist and I'm sharing an office with a physicist, a statistician, computational biologists and clinical scientists as well as engineers. We really have a broad spectrum of experts that share the same environment. Our biology labs are right next to optics and other interesting labs. The opportunity to collaborate with people from other fields is pretty outstanding here. In academia you can have something similar but you tend to have different grants or departments, here we share a common mission which as a scientist I would say is pretty spectacular."
In contrast to academia, publication is not a major priority for Dr Vitari or his team at the moment, he says: "We a relatively new company and we will publish our research as it becomes more mature."
When Dr Vitari joined the company it was known as Google[X]. It then became Google Life Sciences and is now Verily. Over the past two years what started as a small research group has grown into an independent company. A move to a new purpose built campus is scheduled for the end of the year, Dr Vitari says this is testimony to how well the team is doing.
Luck in science
Talking about joining Verily in May 2014, Dr Vitari says: "I think I was extremely lucky. They say you need to be good and smart but then you also need to be very lucky in science. That was very much the case for me. Just over two years ago I was at Novartis in the oncology research department and I was having a good time. Suddenly one day I found out that the whole of research oncology was going to be closed in California. I started to look around for other opportunities and I was going for another position in a pharma company until I got a phone call from a person that I met a few years ago at a BBQ for postdocs. I was a little bit surprised, but then they said 'you know Google[X] is looking for someone with your set of skills and experience'. The weird thing is, a few days earlier I was having breakfast with an ex-colleague and was talking about how I wished Google would do something in life sciences. The next week I got the phone call. I didn't wait around! I was really lucky that that person remembered me from a BBQ."    
Luck driven by his own curiosity has been a theme in Dr Vitari's career. As an undergraduate in Italy a brief internship with a pharmaceutical company introduced him to protein kinases. From there he approached Professor Dario Alessi at the Medical Research Council Protein Phosphorylation and Ubiquitylation Unit at the University of Dundee.
"I was interested in continuing to study the protein kinase family. Dario is a world expert in the field so I contacted him kind of last minute to try to find a PhD studentship. Again I was pretty lucky. He told me that he had a grant from a company for a student and that I seemed like I'd be a good candidate, we had a brief phone conversation and he invited me for an interview in Dundee. I stayed with him. It was not always easy but it was an extremely useful experience," says Dr Vitari.
"If I look back to my time at PPU I still remember it as one of the best times in my life. I'm still friends with almost everyone I worked with in the lab in Dundee because I was really sharing all my days with them and all my evenings or weekends," he says.
Academia to industry
In 2006, Dr Vitari moved from Dundee to a postdoctoral research position at the pharmaceutical company Genentech in San Francisco. He found the move from academia to industry less challenging than the cultural change.
At Genentech Dr Vitari expanded his range of research experience: "After Dundee I wanted to continue to explore how protein ubiquitylation regulates cell behaviour so that's how I came to be in the US. Dr. Vishva Dixit's lab within Genentech was strong in their basic research and postdoctoral programmes so I thought it was the best of two worlds – there was fantastic funding and access to resources but very strong academic culture. There I explored the experimental biochemistry techniques I had learnt at Dundee alongside the most advanced transgenic mouse models and was involved in a little bit of clinical research so I really experienced a broad range of techniques."
"The move from academia to industry was exciting. One of the things I missed, however was going to the pub on a Friday evening with my colleagues from MRC PPU. It took time to find alternative social events where I could talk with my new colleagues. This is another important thing that people at the MRC PPU should not pass on," he says.
Dr Vitari does not miss the weather in Dundee: "California is a fantastic place to be outdoors. I go camping with my family; I have a little girl who is one and a half and another one on the way."
Regardless of location, Vitari says you need to enjoy what you do: "There was not a specific defining moment where I felt like I became a scientist because I've always been curious about how things work. But whatever you do, you need to enjoy it. If science is something you are passionate about then you will probably be able to work the long hours and find the right time to go for fun as well. If you end up working in a high pressure environment you will soon find out if science is not the right thing for you."
In the long term, Dr Vitari has two goals: "One would be contributing to a cure for cancer, or at least a particular subtype of cancer. We have a lot of treatments that extend survival but a cure is very rare in cancer. The other goal is to come up with a diagnostic screen that would allow us to catch disease earlier. I believe that is an attainable goal."
Final word
Taking time to talk to other scientists is essential says Dr Vitari: "PhDs and postdocs, scientists in general, tend to be very busy and may be more likely to think 'I could run another experiment or collect that data' than maybe go and have a conversation with someone. Once a week it is a very good use of your time to go and have a beer with your colleagues and with people you don't know. You never know when a few years down the line that person might become your collaborator or give you a call, things can turn out in a very unexpected way."
Top Publications
Dr Alberto Vitari picks his top three papers and tells us why he has chosen each one.
The WNK1 and WNK4 protein kinases that are mutated in Gordon's hypertension syndrome phosphorylate and activate SPAK and OSR1 protein kinases.
Biochem J. 391, 17-24.
Vitari AC, Deak M, Morrice NA, and Alessi DR. 2005.
"This paper was the culmination of the relentless search for the physiologically relevant substrates of the WNK1 and WNK4 protein kinases that we conducted in Alessi's lab. After numerous unfruitful approaches a relatively straightforward immunoprecipitation gave us the clue to the discovery of a new signalling cascade regulated by the WNK protein kinases via SPAK and OSR1."
COP1 is a tumour suppressor that causes degradation of ETS transcription factors.
Nature. 474, 403-406.
Vitari AC, Leong KG, Newton K, Yee C, O'Rourke K, Liu J, Phu L, Vij R, Ferrando R, Couto SS, Mohan S, Pandita A, Hongo JA, Arnott D, Wertz IE, Gao WQ, French DM and Dixit VM. 2011.
"This paper reported discovery of a tumour suppressor role for COP1 ubiquitin ligase and summarized the core of my postdoctoral work in the Dixit lab. This research also uncovered a remarkably simple and effective molecular trick leveraged by the oncogenic variant of the ETS transcription factors to escape COP1 mediated degradation by the proteasome."
Disordered methionine metabolism in MTAP/CDKN2A-deleted cancers leads to dependence on PRMT5.
Science. 351(6278):1208-13.
Mavrakis KJ, McDonald ER 3rd, Schlabach MR, Billy E, Hoffman GR, deWeck A, Ruddy DA, Venkatesan K, Yu J, McAllister G, Stump M, deBeaumont R, Ho S, Yue Y, Liu Y, Yan-Neale Y, Yang G, Lin F, Yin H, Gao H, Kipp DR, Zhao S, McNamara JT, Sprague ER, Zheng B, Lin Y, Cho YS, Gu J, Crawford K, Ciccone D, Vitari AC, Lai A, Capka V, Hurov K, Porter JA, Tallarico J, Mickanin C, Lees E, Pagliarini R, Keen N, Schmelzle T, Hofmann F, Stegmeier F, Sellers WR. 2016.
"Here is a glimpse into the very collaborative research I conducted at NIBR. This article described how a massive scale silencing screen in well characterized cancer cell lines allowed the discovery of an altered methionine pathway in MTAP/CDKN2A-deficient cancer cells and a unique dependency on PRMT5 activity for survival. A finding suggestive of a new therapeutic avenue for the wide range of cancers lacking the tumour suppressor CDKN2A."
LinkedIn profile
Written by: Hazel Lambert, Science Writer at Science Story