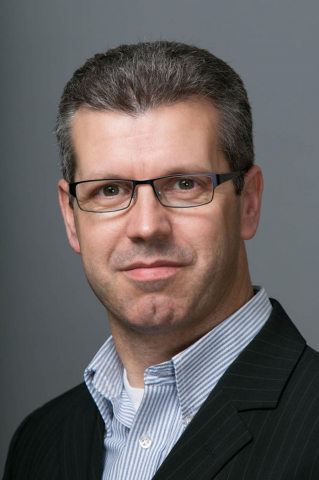 Learning to lead 
"It is difficult to encourage someone to give you a piece of their heart," says Dr Chris Armstrong. "And even if you do get access to heart tissue it doesn't survive in the laboratory for long so really stem cells are an ideal and probably the only platform to create surrogate models of heart disease in the lab."
Dr Armstrong is describing how the company he leads, Stem Cell Theranostics, is using induced pluripotent stem (IPS) cells, reprogrammed from somatic cells donated by patients with heart disease, to generate heart cells for use in the company's new technology platform. Their aim is to use the cells to design medicines that are protective of heart cells and to identify novel therapeutic targets for heart disease with a genetic origin.
His career has taken him from the lab bench in the Medical Research Council Protein Phosphorylation Unit at the University of Dundee to senior executive positions at leading life sciences companies. Stem Cell Theranostics is a biotechnology start-up spun out of the lab of Professor Joseph Wu at Stanford University's Cardiovascular Institute in California, Dr Armstrong is President and Chief Executive Officer. Prior to joining Stem Cell Theranostics in 2014 he was Vice President of the Cell Biology Business Unit at Life Technologies/Thermo Fisher Scientific.
How does a lab scientist learn to lead a global business? Dr Armstrong attributes his achievements to curiosity, discipline and the ability to make himself uncomfortable.
"If I think back, there were three important learnings that were absolutely pivotal to everything that happened after I left Dundee," he says. "The first was the importance of curiosity. You've got to be curious about what you're doing as a scientist. If you are not curious then go and find something else to do."
"The second is the importance of planning and disciplined execution. It was my time in the lab that taught me those lessons. Anyone that has worked with Sir Philip Cohen and Tricia Cohen will know that they create many coaching and development opportunities! The training from the laboratory is exceptional and I had the pleasure of working there for almost ten years."
The third thing he learnt at PPU, that he says has framed almost every move he has made since, is to surround yourself with excellent people.
"If you are the smartest person in the room, you are probably in the wrong room," says Dr Armstrong. "I recall joining the MRC PPU in 1992 and thinking that I was probably miss-hired or it was a bit of a mistake because suddenly I was surrounded by incredible people and I'd come from an environment where I thought I was one of the smart ones."
Looking to work with exceptional people has shaped Dr Armstrong's career ever since: "Just work with really smart people, it's the only way you learn and you only learn when you are uncomfortable," he says.
Introduction to industry 
In 1998, Dr Armstrong joined Professor Sir Philip Cohen and Professor Sir Peter Downes in the launch of the Division of Signal Transduction Therapy (DSTT). His role in PPU's industrial collaboration was his introduction to working outside academia. As scientific operations manager, he coordinated the supply of reagents to Pharma and Biotech partners.
He has had an interesting journey since leaving PPU and the DSTT: "My move into industry was absolutely driven by my time in Dundee. It was the perfect entree into the business of science – having to learn how to make scientific discoveries into something that not only helps the research community but also brings income back in to fund further innovation. With the DSTT I spent a lot of time thinking about how to monitise the reagents and technologies that were being developed in the course of research so we could distribute them to a broader set of scientists and re-invest the proceeds to support future research in the laboratory."
Dr Armstrong has spent fifteen years in management roles in the life sciences industry, always learning on the job and pushing himself to do more. At Invitrogen/Life Technologies he held roles in research and development, business development, product management, marketing and then the final six years in general management running several of their biology platforms and businesses.
Future technologies
In 2011, stem cell research caught his attention: "Really it all started when I was asked to lead a stem cell business unit. I hadn't had much exposure to this technology before then and became absolutely intrigued by it's potential," he says. "I'd spent the previous 10 years since leaving the DSTT in business and management positions. Of course they were very closely associated with the science, but as I grew in my career and the businesses I ran became larger and larger, I started to become more removed from cutting edge innovation. In 2014 Thermo Fisher Scientific acquired Life Technologies in a large $14 billion dollar deal. It was one of those moments in one's career where you have an opportunity to take stock of where you are and think about doing something different. I was very keen for a change that would let me learn more about the start-up world, get closer to the science and be involved in making a health care impact."
That something different was joining Stem Cell Theranostics, a recent start-up company spun out of Stanford University. The company's stem cell platform technology builds on the work of Professor Shinya Yamanaka who was awarded the Nobel prize in 2012 for his role in creating IPS cells.
In 2007, Professor Yamanaka showed that by introducing four genes into human adult cells you can essentially rewind them to turn them into cells that are similar in their capabilities to embryonic stem cells. These IPS cells have two incredible properties, they can divide forever to create an inexhaustible supply and have the potential to differentiate into any cell type in the body.
"We are harnessing the power of that technology and then focusing it on creating very high purity heart cells. Through our exclusive collaboration with Professor Wu and the Cardiovascular Institute at Stanford University, we can access blood samples from patients and that are being treated at the institute. These patients are recruited to join Professor Wu's world renowned stem cell research programme, and consent to donating blood. We can then access these blood samples and reprogram them into IPS cells and then differentiate them into heart cells. Once we have a supply of heart cells we can do interesting experiments with them. We ask, are the cells normal? Do they have dysfunction and can we correct that dysfunction?" says Dr Armstrong.
Dr Armstrong first met Professor Wu when he was at Life Technologies and was fascinated by his incredible research. Three years later he took up the post at Stem Cell Theranostics. The company's scientists use IPS technology to generate low and high complexity cell structures. They create individual heart cells that they can monitor cell by cell and build mono-layers of cells that are connected and beat synchronously, in turn these layers can be sculpted into 3D tissue strips. The company is also working with others to generate mini-hearts, so called organoid models, that they intend to use to better understand heart disease.
It was the diverse challenges of the Chief Executive role that attracted Dr Armstrong to the company, he says: "The start-up world is a complex and ever evolving beast, you have to pivot and think differently all the time. This is by far the most difficult assignment of my career. I'm smart enough to realise I'm not excellent at one particular thing, but I really enjoy the diversity of developing strategy, designing the organization, hiring the team, helping to develop the scientific plans and running the business".
Hiring the right people is at the heart of a successful business, he says: "I never pursued an MBA, instead I learnt on the job by running businesses up to 500 million dollars a year revenue. It all goes back to the point I mentioned earlier, that if you surround yourself with excellent people you don't need to have all the answers. Recruit well and recruit people that augment the skill sets that you need in the team, don't mirror what you already have."
The what and the how
Most of Dr Armstrong's learning has been on the job. The two most important lessons he has learnt since leaving PPU, he says, are understanding the balance between the 'what and the how': "There's always a thousand things that you can do so prioritisation is critical. That's the what. The importance of the how is something you do not learn until you really have far too many things to do. The how is your amplifier."
The 'how' or the 'amplifier' is hugely influenced by finding the right people and creating a high performance team, he says: "There's a feeling when you are in the research world that it's all about the power of one and what I try to impart to our young scientists is that actually the biggest amplifier is the power of the team. It's all about working with and through others to achieve results. You are never going to have all the answers, be vulnerable, go and ask questions, go and get insights, find 30 minutes with someone to think through and talk through new experiments. Work with and through other people to achieve results."
Mentoring, both helping other people to develop and being mentored himself, has been central to Armstrong's success. To younger scientists he says: "Go and find mentors that are going to help you think differently. Again, this is something I have learnt, you need to build in time to think and so to recharge your scientific brain. Don't just focus on running fast, find balance in the what and the how. It's not just what you do, it's also how you do it that ultimately makes a difference. Though I didn't understand this when I was young, I just ran at 100 miles an hour."
There is, he says, a tendency for young scientists to see everyone working 12 to 15 hour days in the lab and to try to replicate it. Reflecting on his own early career he says: "That's one of the things I would have changed, knowing what I know now, would have been to go back and to work smart and to relentlessly and ruthlessly prioritise."
Make time for exercise
No matter how busy Dr Armstrong is, he still makes time to exercise every day. Whether it's lifting weights, tennis or cardio. "If you are in great shape and you can manage your energy then you can work the hours that you need to work and actually you'll be more productive in that time. It's too easy just to sit and open up the laptop."
The other behaviour Dr Armstrong considers important is to really think about how you interact with others.
"I cannot emphasise enough the importance of mentoring. Whether it's a senior mentor or peer mentor. Quite often some of the most powerful mentoring lessons I've learnt are from people at the same level or even from people who are more junior to me, so having the ability and comfort level to be vulnerable is important. If you are not uncomfortable you never grow – I'm generally the person in my organisation who's asking the silliest question and I'll just admit it upfront. I might be the slowest guy in the room but I'm going to ask the question anyway, really there is no bad question, it's just this nervousness we all have because we don't want to appear vulnerable. It is not a weakness, vulnerability can be a huge strength."
Make the most of every opportunity
The people Dr Armstrong worked with in Dundee left a huge impression on him. "I really valued my time in Dundee, and learnt so much from my peers and mentors. It's just an absolutely incredible environment. The lessons I learnt there in my ten years have shaped who I am and how I think. My guidance to the students that are there now is to take every single opportunity that they can to extract information from the people around them."
Hold strong opinions weakly
Being able to listen to other people and be persuaded to consider alternative opinions is important too. "Hold strong opinions weakly," says Dr Armstrong. "It is critical to be able to pivot. Even if you have a great idea it may not translate to a sound business strategy or research plan, and if you are just dead set on a particular approach and you are not able to think, listen, evolve and pivot then this tends to lead to failures. So hold strong opinions weakly, invite challenge. It is really important to be challenged and to think and listen rather than become emotional. As soon as you are emotional the walls go up and you are not prepared to take any input. This is something that is really important to learn and why it's so critical for scientists to get feedback and to present in lab meetings and conferences because it's critical to be challenged and again to be comfortable enough to be vulnerable. That's when the learning happens."
Final word
"Go and do what you are passionate about. I've never had a clear fixed road map for my career, I've always aligned my activity and direction with what interests me. But if you're not having fun, if you aren't passionate about it and you aren't being challenged, if you are not learning anything, then go and do something else. Life is too short," Dr Chris Armstrong.
Career Highlights
1995 British Diabetic Association Fellowship
2005 Provided kinase drug screening platform (SelectScreen™) that enabled the development of Zelboraf® for the treatment of Melanoma
Top Publications 
While Chris has been out of the lab for sometime, he tells us why he is proud of a couple of publications from his early career.
Identification of the separate domains in the hepatic glycogen-targeting subunit of protein phosphatase 1 that interact with phosphorylase a, glycogen and protein phosphatase I. 
Biochem J. 1998 366: 669-704
Armstrong, C.G., Doherty, M.J., Cohen, P.T.W.
"This publication is a great example of a rigorous structure/function analysis that led to the identification of a regulatory region that could be targeted for the development of novel therapeutics to treat diabetes."
A non-radioactive method for the assay of many serine/threonine-specific protein kinases. 
Biochem J. 2002 Sep 15; 366(Pt 3): 977–981
Ross, H, Armstrong, C.G. and Cohen, P.
"This was one of those 'Friday afternoon experiments' that turned into an exciting project, a nice publication and an issued patent. The technology was subsequently licensed and commercialized by Millipore and CisBio/Eurofins and has been used by many Pharmaceutical and Biotechnology companies around the world in their kinase drug discovery programs."
LinkedIn Profile 
Written by: Hazel Lambert, Science Writer at Science Story