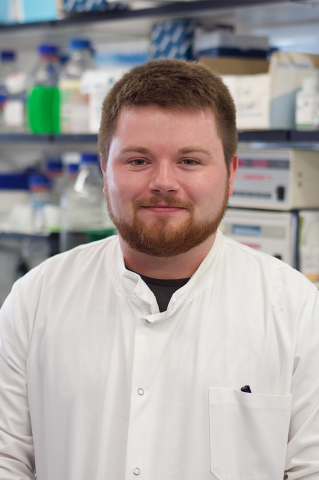 Luke Fulcher
Luke Fulcher, who has just completed his PhD work in Gopal Sapkota's lab, has been awarded the prestigious University of Dundee School of Life Sciences Howard Elder Prize for 2019. 
Luke received the award for his study entitled "FAM83D directs protein kinase CK1α to the mitotic spindle for proper spindle positioning," which has been published in EMBO Reports. 
Cancer occurs when cells lose their ability to control their cell division cycle. Thus, research into the regulatory mechanisms responsible for coordinating the cell cycle can both increase the basic understanding of this fundamental process, and uncover potential molecules to target in disease. In his study, Luke and colleagues, from both the University of Dundee and the University of British Columbia, discovered a new signalling axis composed of the protein kinase CK1α and its regulatory protein FAM83D, and demonstrated that the FAM83D-CK1α complex is required for correct mitotic spindle positioning and timely mitotic progression. As the orientation of the mitotic spindle dictates the cell division axis, aberrant spindle positioning can lead to critical defects in both the development, and maintenance of healthy tissues in the adult.
CK1α participates in many cellular processes, from Wnt signalling to the DNA damage response. Thus, CK1α has been a tantalising drug target in many cancers. However, due to its involvement in many other vital biological pathways, CK1α has been deemed undruggable. The data presented in this paper suggest that targeting the regulatory subunit, FAM83D, provides a means of selectively inhibiting the spindle positioning function of CK1α, without impacting the other CK1α-dependent processes. Luke's results set an intriguing paradigm where targeting CK1 regulatory subunits can inhibit specific functions of these pleiotropic kinases. In the context of cancer, disruption of the FAM83D-CK1α complex is a promising drug target, with the aim of disrupting the cell division axis, prolonging mitosis and increasing the window of opportunity for anti-mitotic cancer drugs to act.
The Howard Elder Prize was endowed by Dr Alison Burt 25 years ago, in memory of her father Dr Howard Elder, who was a former medical graduate of the University of Dundee. The prize is awarded to either postgraduate student or postdoctoral researcher from the SLS deemed to have published the most significant paper in an area related to cancer research. It was introduced by Dr Elder's daughter who said her father always spoke very highly of his time at Dundee and the opportunities it gave him.
Professor Dario Alessi, Director of the MRC PPU, said, "Congratulations to Luke for this very prestigious and well-deserved award. Luke has worked very hard during his PhD to uncover and validate an important mechanism revelling how CK1 isoforms localisation and substrate specificity is regulated to control the cell cycle. This is a significant step forward in our understanding of CK1 biology." 
This year's judging panel consisted of researchers based in the Division of Cancer Research at the School of Medicine (Professor Kevin Hiom, Professor Albena Dinkova-Kostova and Dr Adrian Saurin). The panel said that Luke's work "adds to our understanding of the mechanisms that ensure the accuracy and efficiency of cell division to prevent disease." The panel said they were impressed by the comprehensive nature of the work and systematic way the experiments were conducted.

MRC PPU researchers have been very successful with being recognised with the Howard Elder prize. Prior to Luke, 7 PPU researchers have been awarded the Howard Elder prize. The previous winners were: Remi Sonnerville (2017), Ruzica Bago (2016), Marija Maric (2014), Kumara Dissanayake (2011), Craig MacKay (2010) Elton Zeqiraj (2009) and Xu Huang (2008).