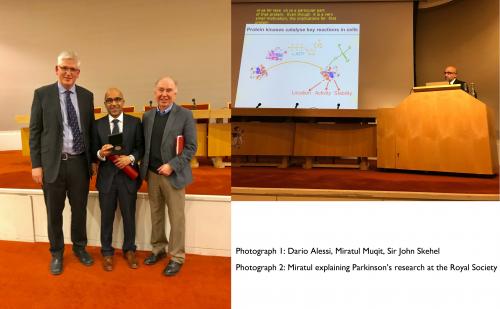 Miratul delivers the Frances Crick Lecture
Last night MRC PPU Programme Leader and Wellcome Senior Clinical Fellow, Miratul Muqit, delivered the Francis Crick Lecture at the Royal Society in front of a packed audience comprising scientists and members of the public including Parkinson's patients.
Following the lecture, Miratul was awarded a medal from the Biological Secretary of the Royal Society, Sir John Skehel. The lecture was awarded to Miratul "in recognition of his research on cell signalling linked to neurodegeneration in Parkinson's disease." Miratul's lab studies how mutations in the PINK1 kinase and Parkin ubiquitin ligase enzymes lead to Parkinson's disease.
The Francis Crick Lecture is given annually in any field of biological sciences with preference given to genetics, molecular biology and neurobiology, the general areas in which Francis Crick worked, and to fundamental theoretical work, which was the hallmark of Crick's science. Miratul is the first practicing clinician to deliver the lecture and only the second researcher from Scotland, after Dario Alessi who delivered the Crick Lecture in 2006.