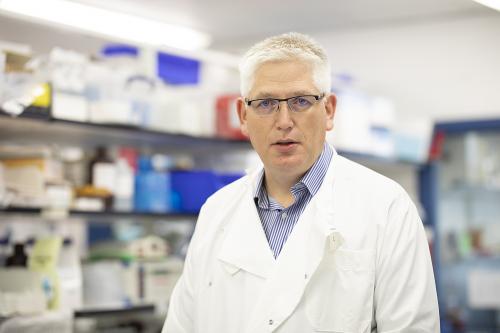 Dario Alessi
We are delighted that Boehringer Ingelheim, GlaxoSmithKline and Merck KGaA have pledged £7.5 million to allow the University of Dundee's Division of Signal Transduction Therapy (DSTT) to continue its collaborative work.
The DSTT comprises 23 research teams at Dundee's School of Life Sciences, 13 of which are based within the MRC PPU.
Founded in 1998, expanded in 2003 and renewed in 2008, 2012 and 2018, the DSTT is the world's longest running collaboration between academic research laboratories and the pharmaceutical industry. The latest renewal means the consortium has attracted more than £65 million in funding since its inception. It is widely regarded as a model for how academia and industry can interact productively.
DSTT Director Professor Dario Alessi said, "It is incredibly exciting that we have succeeded in renewing our flagship collaboration with our pharmaceutical partners that has been ongoing for the last 22 years. This renewal reflects the high quality and importance of the research that our Dundee-based scientists are making to advance understanding of human diseases such as Parkinson's, immune disorders and cancer.
"This renewal is a tremendous boost for our research. It provides our students and postdoctoral researchers with vital experience that will encourage some of them to embark on a lifelong career in drug discovery."
The DSTT works to help identify new drug targets and then accelerate the early phase development of improved treatments for major global diseases. It was founded by Professor Sir Philip Cohen and Professor Sir Pete Downes. In July 2012, Professor Alessi assumed the Directorship of the DSTT.
The DSTT helps the participating pharmaceutical companies to develop improved drugs that target major 'controller' proteins in the body, focusing on enzymes called kinases and components of the ubiquitin system.
Among the DSTT's successes was helping to develop dabrafenib, which is used in skin cancer therapy. This, and another drug used in the treatment, target kinases, whose functions in the body were identified by scientists at Dundee.
Dr Dirk Stenkamp, SVP of the Discovery Research Site Germany at Boehringer Ingelheim, said, "The foundation for breakthrough medicines is excellence in science. Collaborating with the outstanding scientists in Dundee inspires our teams and catalyses new ideas. Our partnership with the University of Dundee is key to our ambition to bring innovative medicines to patients."
Andree Blaukat, SVP Healthcare R&D and Head, Translational Innovation Platform Oncology, Merck KGaA, Darmstadt, Germany, said, "Building on a long-standing and successful partnership, we are delighted to enter into a new collaboration phase with this esteemed group of scientists in Dundee.
"Our internal scientific discussions and drug discovery projects across different therapeutic areas are frequently enriched by contributions from experts in Dundee and we look forward to continuing the fruitful exchange and the collaborative work in the future."