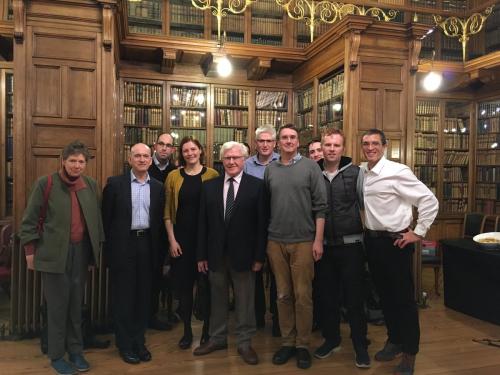 L-R: Alison Williams, David Dexter, Gordon Duncan, Esther Sammler, John Minhinick, Dario Alessi, Alexander Zimprich, David Breen, Martin Taylor, and Tilo Kunath
The 2nd Dundee Edinburgh Parkinson's Research Initiative Public Event organized by Dr Esther Sammler at the Royal College of Physicians in Edinburgh on March 22, 2019 was a great success.
Highlight of the Public Event was the panel discussion hosted and chaired by John Minhinick, Fife Branch of Parkinson's UK and committee member of the Dundee Parkinson's Research Interest Group, on eight themes important to people affected by Parkinson's disease:
1. Why did I get Parkinson's?
2. Diagnosis – how can we do it better?
3. First steps – early intervention, role of exercise, participatory research 
4. The lived experience of a partner
5. What support is available? NHS, community, self?
6. Medications – what is in the pipeline? Personalized medicine?
7. The future – opportunities for research
8. Working together - the role of funders and industry.
We had fantastic participation from the audience, but also an outstanding panel including Professor David Dexter, Deputy Director for Research at Parkinson's UK; Professor Alexander Zimprich from the University of Vienna, who has made ground-breaking contributions to unravelling the genetic landscape of Parkinson's disease,;Professor Miratul Muqit, consultant neurologist and programme leader at the MRC Protein Phosphorylation and Ubiquitylation Unit at the University of Dundee; Dr. David Breen, consultant neurologist and Wellcome Trust Fellow at the University of Edinburgh; Lorna Gillies, who has more than 13 years of experience as a Parkinson's disease specialist nurse in Tayside; Dr. Alison Williams, artists and facilitator of the Quality of Life Group in Edinburgh; and Martin Taylor whose eloquent account of his experience can be read in his recent blog.
We thank the over 120 people who attended the public event, the panel members, Chair and all those – in particular the Dundee Parkinson's Research Interest Group – for their time and effort to make this a success. We are looking forward to next year's event at the same venue: the date is set for March 20, 2020.