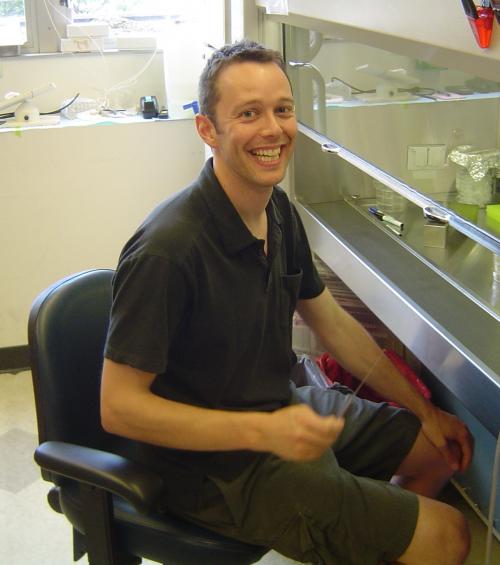 Graeme Carnegie (1974-2014)
It is with heavy hearts that we pass on the sad news that Dr Graeme Carnegie passed away peacefully on the 20th of July 2014, after a brave and prolonged battle with leukaemia. Graeme is remembered with huge affection and pride in Dundee, where he was a PhD student with Tricia Cohen from October 1997 to September 2001 and a friend and colleague to a generation of Dundee scientists and support staff.

Graeme's Ph.D. research focused on the role of the protein phosphatase 4 (Ppp4) in microtubule organisation at centrosomes and other cellular functions. He demonstrated that a regulatory subunit (R2) was likely to target the catalytic subunit to centrosomes in human cells and identified a R2 orthologue in the fruit fly. Graeme's investigations were the first to show that R2-Ppp4 interacts with a number of proteins, one of these being the Survival of Motor Neurons (SMN) protein complex, which is functionally defective in the hereditary disorder spinal muscular atrophy. The research provided the first information on how the SMN complex may be regulated during the assembly and recycling of spliceosomes and transcriptosomes. Graeme was awarded a conference poster prize for these studies.

Graeme's postdoctoral research was carried out in the USA with John Scott, a Howard Hughes Investigator at the Vollum Institute in Portland, Oregon, where he published important research in the field of A-kinase anchoring protein-mediated signalling and demonstrated his ability to become an independent investigator. This led to his appointment as an Assistant Professor in the Department of Pharmacology at the University of Illinois at Chicago in 2010. Here he began his own research laboratory, focusing on the signalling complexes that may modulate the function of the heart in health and disease.

Graeme is fondly remembered by all his Dundee colleagues as a kind, thoughtful and talented scientist who epitomised the friendly, collaborative approach to research that most aim for but few reach. Indeed, his smile and superb sense of humour lit up any room he was present in, and his remarkable knowledge of music, film, literature and unusual alcoholic beverages enlivened every moment that his colleagues, including Pat and Claire Eyers, James Hastie, Mirela Delibegovic, Nimesh Mody and Mark Peggie were privileged to spend with him. They remember Graeme also as a gifted drummer and sportsman, equally at home on the football field, badminton or squash court, where his skills even extended to playing left handed 'to make it a bit more of a game'. A man of integrity, generosity and wit, Graeme will be missed enormously by all his colleagues. Our heartfelt sympathy is extended to Graeme's family in the UK and US, in particular his wife Andrea and his children Niamh and Ava.