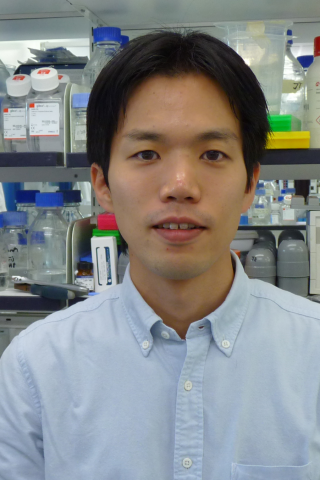 Past Lab Member
(
2013
-
2016
)
Date: August 2013 - June 2016

Current Position: Project Lecturer, Laboratory of Brain and Neurological Disorders, Graduate School of Pharmaceutical Sciences, The University of Tokyo, Japan

Publications Generated While in the Lab:
Ito G, Katsemonova K, Tonelli F, Lis P, Baptista MA, Shpiro N, Duddy G, Wilson
S, Ho PW, Ho SL, Reith AD, Alessi DR. Phos-tag analysis of Rab10 phosphorylation 
by LRRK2: a powerful assay for assessing kinase function and inhibitors. Biochem 
J. 2016 Sep 1;473(17):2671-85. doi: 10.1042/BCJ20160557. Epub 2016 Jul 29. PubMed
PMID: 27474410; PubMed Central PMCID: PMC5003698.
Steger M, Tonelli F, Ito G, Davies P, Trost M, Vetter M, Wachter S, Lorentzen 
E, Duddy G, Wilson S, Baptista MA, Fiske BK, Fell MJ, Morrow JA, Reith AD, Alessi
DR, Mann M. Phosphoproteomics reveals that Parkinson's disease kinase LRRK2
regulates a subset of Rab GTPases. Elife. 2016 Jan 29;5. pii: e12813. doi:
10.7554/eLife.12813. PubMed PMID: 26824392; PubMed Central PMCID: PMC4769169.
Hatcher JM, Zhang J, Choi HG, Ito G, Alessi DR, Gray NS. Discovery of a
Pyrrolopyrimidine (JH-II-127), a Highly Potent, Selective, and Brain Penetrant
LRRK2 Inhibitor. ACS Med Chem Lett. 2015 Apr 7;6(5):584-9. doi:
10.1021/acsmedchemlett.5b00064. eCollection 2015 May 14. PubMed PMID: 26005538;
PubMed Central PMCID: PMC4434483.
Gilsbach BK, Messias AC, Ito G, Sattler M, Alessi DR, Wittinghofer A, Kortholt
A. Structural Characterization of LRRK2 Inhibitors. J Med Chem. 2015 May
14;58(9):3751-6. doi: 10.1021/jm5018779. Epub 2015 May 1. PubMed PMID: 25897865.
Country of Origin: