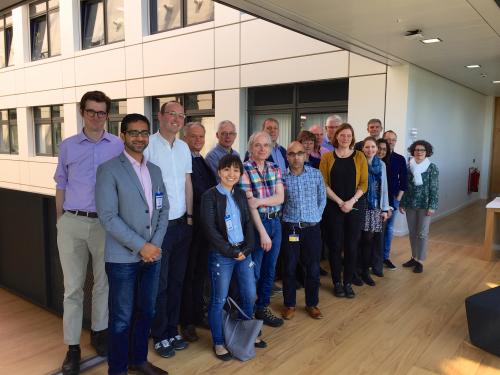 How are nerve cells influenced by immune cells ? This was a central question addressed recently at a neuroimmunology workshop held at the School of Life Sciences in Dundee.
Understanding mechanisms of neurodegenerative disorders including Parkinson's has been a focus of research by MRC PPU researchers including Dario Alessi and Miratul Muqit. However, in recent years there is emerging evidence that inflammation both in the brain and outside such as in the gut may be triggers and drivers of neurodegeneration. Funded by a Dundee ISSF award, Miratul and Dario together with Doreen Cantrell of the CSI division invited leading experts in neuroimmunology to a 1-day workshop to present their latest research and discuss the key challenges in the field.
External speakers at the workshop included Soyon Hong (UK DRI at UCL), Nicole Joller (Zurich), Sarosh Irani (Oxford), Delphine Boche (Southampton), Hugh Willison (Glasgow), David Hunt (Edinburgh), and Hugh Perry (UK DRI at UCL). Internal speakers included Esther Sammler and Mahima Swamy from the MRC PPU and Simon Arthur and Andy Howden of the CSI division.
The workshop was highly stimulating covering topics on the role of microglia in the homeostasis of adult brain neurons in health and disease (Hong, Boche, Howden, and Perry); gut immunity (Joller, Swamy), mechanisms of antibody-mediated neurologic disorders (Irani); interferonopathy and human disorders (Hunt and Cohen), autoimmune neuropathies (Willison), and LRRK2 and the immune system (Arthur, Sammler). At the close of the workshop several collaborations were formed to address future key questions.